---
Sauna polymer trainer vest for women fits all kind of sports occasions. Whether you want to do some simple exercises at home, or want to go to the gym to sweat more, it can help you burn the most calories, achieve your dream exercise effect. Sauna suit creates heat reflection and heat cycle quickly, improves blood flow to help you sweat like crazy within minutes of exercising, you can burn more calories to boost your workout.

✔️ Our sauna vest uses a heat-trapping polymer fabric to boost your natural body heat and stimulate sweating with any type of physical activity.
✔️ Our tank top trainer is lined with polymer heat-trapping fabric that seals your natural body heat and accelerates metabolism with physical exercises.
✔️ Featuring human natural curve cutting and elaborate top-layer compression fabric, our sport sweat vest is an ideal workout gear for building a charming hourglass curve.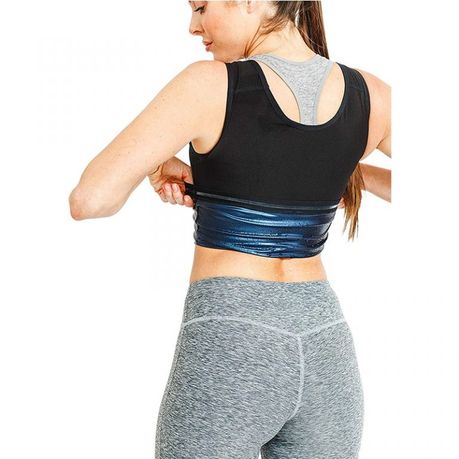 ✔️ Compared to other low-par alternatives, our hot polymer sauna suit is incredibly lighter, dries quicker and is comfortable to wear for a longer time. 
SPECIFICATIONS:
Material: Polyamide
Control Level: Normal
Fabric Type: Polymer
Thickness: Standard